The benefits of routinely rotating your tires
By keeping up with a the simple Tire Rotation Service at Volkswagen of Olympia, you are also:
Reducing tire failure or blowouts
Improving traction control
Increasing the lifespan of tires
Improving fuel efficiency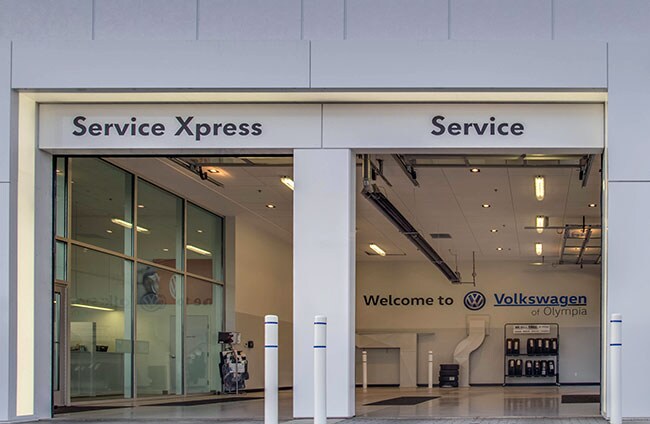 Certified VW Service in Olympia
You make sure to stay on top of your oil changes, keep up with your filters, remember the last transmission service and even have an idea about where you are in the lifetime of your brakes. It's safe to say that you know your Volkswagen better than the person you sit next to every day. So why has the TPMS (Tire Pressure Monitoring System) light on with no evidence of a nail in any of the tires? What could be causing the vibration that is felt when accelerating to get up to highway speed? Well, did your tires get rotated during your last oil change?

Tire Rotations Are All About Prevention
Regular tire rotations help prevent uneven wear that can cause your TPMS light to turn on and vibrations at highway speeds, among other things. By rotating your front tires to the rear of your Volkswagen, you are making sure that you're getting the most out of the lifetime of your set of tires. Your front tires are under considerably more stress than your rear tires simply because there is more weight to bare due to the close location to the engine and motion transfer due to your front tires guiding your Volkswagen through turns. Going one step further, the Certified Technicians at Volkswagen of Olympia will be able to ascertain if it is time to rotate the tires in an X shape, front to back, bringing tires that were once on your front driver side to your rear passenger side. Rotating the tires at regular intervals helps balance out the tread wear your set of tires invariably endure.

If you think it might be time for a tire rotation, the service professionals at Volkswagen of Olympia are here to help! We are the premier Volkswagen destination for those in the Olympia, Tumwater and Lacey areas. With comfortable waiting area serving cocoa, cider, snacks and Starbucks, complimentary Wi-Fi and TVs for your enjoyment, what else could a responsible Volkswagen owner ask for? Our trained technicians use only the best OEM parts, so you know your VW is in good hands.
Service Hours
Monday

7:00AM - 6:30PM

Tuesday

7:00AM - 6:30PM

Wednesday

7:00AM - 6:30PM

Thursday

7:00AM - 6:30PM

Friday

7:00AM - 6:30PM

Saturday

8:00AM - 5:00PM

Sunday

8:00AM - 5:00PM