Time for an oil change?
Well, there it is. Glancing at your last oil change mileage sticker from Volkswagen of Olympia, you realize that it's time for an oil change. With all the options available to you for your Volkswagen, it's always best to consult your owner's manual or contact one of our professional Service Advisors to see if our Conventional Oil Change Service is right for you.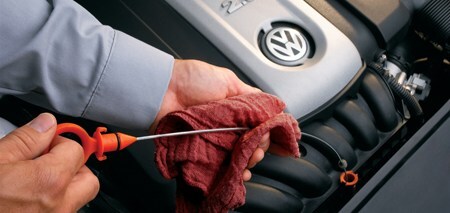 Non-Synthetic Oil Change Service
Not only is
conventional oil the standard
for most vehicles on the road, it is also enriched with additives to ensure your oil maintains it's proper viscosity between oil changes while still being
the most cost-effective option
available. Every time you bring your vehicle to Volkswagen of Olympia, you can count on our Factory Certified Technicians to use only the best OEM parts and fluid.

Genuine VW Oil Fluids & Services
During this service, we at Volkswagen of Olympia will also address your oil and air filters which often catch any debris that would negatively impact your oil life. While oil filters should be changed with every oil service, the need to change air filters vary with your driving habits and mileage. Don't worry, we'll keep you posted on those too!
By keeping up with your regular oil changes, you're ensuring that your VW will continue running smoothly and help avoid engine build up. By keeping the internal surfaces of your engine clean, you increase your protection against overheating and added additional resistance to breakdowns. Which, we can all agree that avoiding those costly repairs is well worth a trip to see Olympia's Volkswagen experts.
When you book your next Conventional Oil Change Service with Volkswagen of Olympia, you can count on the same level of service and commit you've come to expect from us. While you wait, we have complimentary Wi-Fi for your convenience, as well as Starbucks coffee if you're in need of a caffeinated pick me up. Here at Volkswagen of Olympia, your VW is in great hands, so you can worry less and get back to enjoying everything that you love about your Volkswagen!
Service Hours
Monday

7:00AM - 6:30PM

Tuesday

7:00AM - 6:30PM

Wednesday

7:00AM - 6:30PM

Thursday

7:00AM - 6:30PM

Friday

7:00AM - 6:30PM

Saturday

8:00AM - 5:00PM

Sunday

8:00AM - 5:00PM